Posted by Gus | 0 Comments
A couple of weeks ago I noticed that Lou Romano made available the color script of  Pixar's UP movie in his blog.
It was interesting to look at the movie like this. Most of the time we are so caught up on the story that we seldom notice the variations of color, presented to us during the various stages of the story,  after all we may go to the movies to unwind, be entertained, be distracted and even be informed as the case might be.
While having lunch with Dice Tsutsumi, and asking him about his role in Pixar, he mentioned that he was an Art Director and dealt with Light, like Lou Romano.
The color script and Dice's conversation got me thinking about light, up until recently I was preoccupied  only with getting it right when sketching, in terms of form, then realized I was striving to make it too perfect (I know, I know – its a sketch  not a drawing). I read somewhere If you want it perfect, take a picture…  in summary I have come to understand that a sketch is about capturing quickly the feeling of the view before oneself.
While reviewing the art from artists unknown to me as well as those that I admire, I came to realize that in an odd way I may have been on a path to the inclusion of light into my watercolors except that I thought it was a mistake. The watercolor below was one of my first, and strangely enough every time I share my small moleskine watercolor booklet with people they seem to stop at this one (while I explain that the water was never intended to be purple).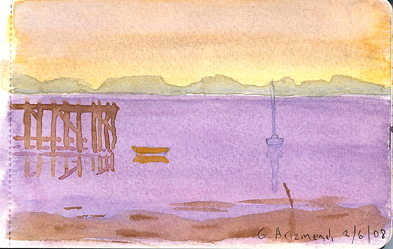 While I have been paying attention to everything around me a lot more since I started sketching (and also participating in SketchCrawl), I have now started to pay attention to the contrast of the various tones of light. It's not that I didn't pay attention before It is just that I had not conscientiously identified what I was looking at.
This brings me to Dutch Light, while researching lighting I came across a great DVD called Dutch Light
. It is a film that investigates the existence of Dutch Light, did it ever exist? Does it exist now, or have environment changes affected the light. It was fascinating to watch.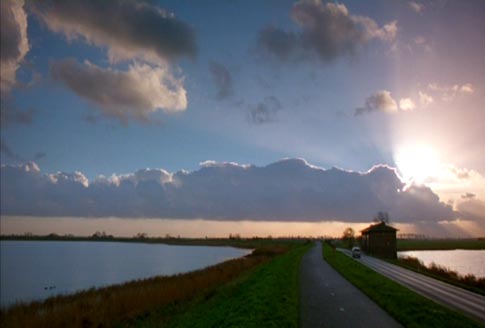 If I recall correctly at one point in the DVD it is mentioned that artists would travel to Holland seeking the Dutch Light that some other artist may have painted… the comment being made was that an artist may seek a location used by another in order to achieve a specific feeling, not realizing that the first may have copied it from yet another artist and/or from somewhere else.
Enjoy!
Read More