Gabriel Orozco – Tate Mo...
1

Stargazing in November
2

Amazing Clouds
3
Posted by Gus | 0 Comments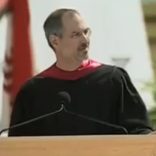 Many months ago I found myself dealing with a fork in my life path and during a walk through a street in Emeryville, CA. I came across the following message on the ground.
"What would you follow if there were no lines on your road?"
– Chris Lattanzio 2007
I made a note of that message and continued walking.
A few days after the Emeryville, CA. encounter, I came across the following video of Steve Jobs.
"You cannot connect the dots looking forward, you can only connect the dots looking backwards."
To this day both the message and the video add perspective as I move through life both artistically and professionally.
I hope they can be of help to you as well.
Read More