Posted by Gus | 0 Comments
April 11th, 2009 was held in Chinatown, San Francisco, CA. Unfortunately I was unable to attend 🙁 however I was able to do some sketching locally in downtown Santa Rosa.
First of all, it was a quiet Saturday perhaps because of the  Easter weekend. The first couple of sketches were done while I took our little dog for a walk, the cherry tree blossoms were dancing with the wind, and while standing there looking I noticed a branch that kept swinging up and down as the wind made  its presence known, after a couple of sketches my dog grew impatient so we moved on.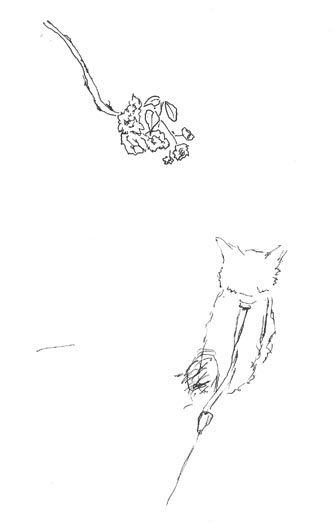 The rest of the sketches were done in downtown Santa Rosa. On the way to our destination, while crossing the street I sneezed, and to my surprise a passenger in a passing SUV said bless you which surprised me, because there have been situations where I am next to someone and then sneeze and they don't say anything, or you say that to them and the same. That small token set the tone for the day!
I decided to sit at the edge of the park and observe / sketch people as they were walking by. It was quite an interesting exercise, people walked pretty fast, most had unhappy faces with no smiles, not one single person stopped to look and most seemed deep in their thoughts.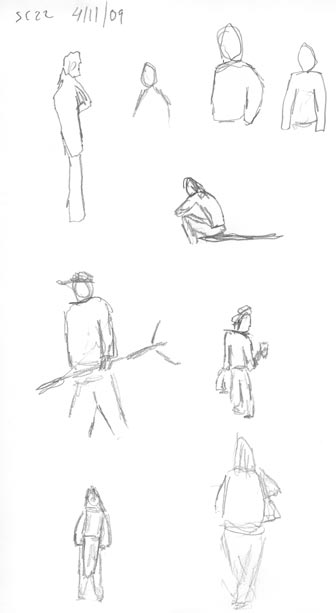 It was actually quite a challenge to sketch them because they were moving pretty fast (probably rushing to prepare for Easter) and while there were people sitting at a nearby restaurant patio, I decided to stick with the challenge of drawing moving targets.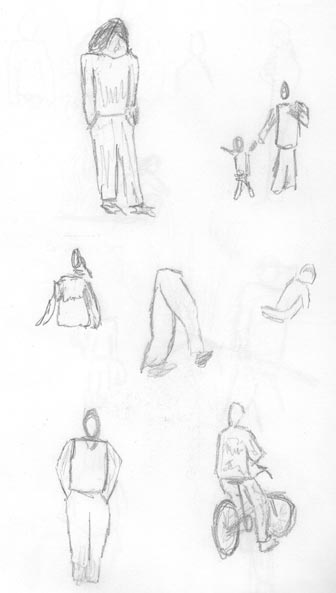 The following events caught my attention so I decided to make a note of them. A couple went by (I didn't sketch them), it was a woman with a man on a wheelchair who had a red  rose on his lap, I thought that was interesting, perhaps it was for his mother, or perhaps it was for his wife, his sister maybe? where are they going? to eat at that restaurant? maybe they are meeting someone there? who knows!!!  I found myself exploring the different potential options, which made this a lot more enjoyable than sketching buildings and landscapes which I typically do.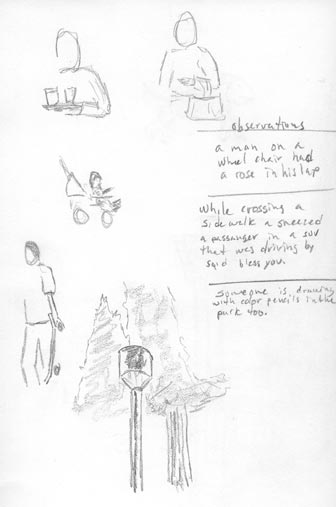 I also noticed a person drawing in the park, as I turned to see if there were other subjects behind me. He appeared to be using colored pencils, and yes I was curious to see what he may be doing.. I guess it is human nature, but opted to concentrate instead on my own sketching.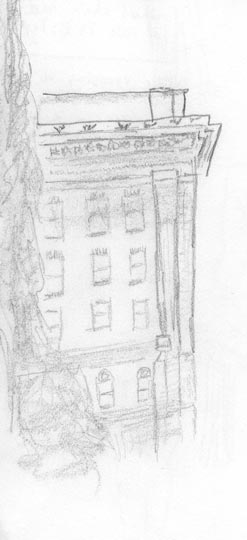 It was a great day!
The following video was created by Goro – this is what SketchCrawl is  ~ Enjoy ~

22nd SketchCrawl San Francisco from Goro on Vimeo.
Read More