Posted by Gus in Art, Sketchcrawl, Sketches | 0 Comments
Getting ready for Sketchcrawl
For the past month or so, I have spent my evening/night time dealing with website duties,  so I have hardly dedicated any time to sketching.
A couple of weeks ago I found myself in front of some trees with no materials and an urge to sketch them. I had read a couple of days prior to that day of a technique for drawing/sketching trees, so I decided to give it a try.
I don't remember the name of the book but it was mentioning that one should first use dots or little lines to define the outline and work our way into the tree, by drawing more and more lines. Not having had the time to take any art courses (last class I took was back in High School days), I was eager to give this a try.
The image below is the result… I also sketched the trunk of a pine tree, at the beginning it appeared to be a difficult task but as I continued it seemed to take shape and now when I look at the sketch It seems I was able to capture what I was looking at (definitely an improvement I think).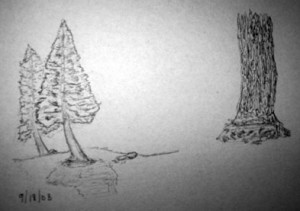 Materials: regular ball point pen and the back/inside of a mailing envelope. (I will scan this later, here is a picture in the mean time).