Posted by Gus in Art, Sketches | 0 Comments
Atelier Interactive Acrylics
This past Saturday I went with my wife to a demonstration of Atelier Interactive Acrylics at a local art store. While she is currently using acrylics, I have never used acrylics, so I was intrigued about this new type of acrylic paint, and acrylics in general.
I had fun playing with this medium because it is like painting with watercolors but in a way it's better. With watercolor (and maybe it will change once I have more experience)  one has to be very careful about how to layer color otherwise it turns into mud. With regular acrylics you can paint on top of it if you make a mistake but apparently they dry too fast. The cool thing about this medium (Interactive Acrylics) is that you can mix it with water, work on your painting and later on when it dries apply another layer on top of it, or use water or some unlocking liquid and continue mixing the paint as if it had never dried.
Below are my two trials with this medium.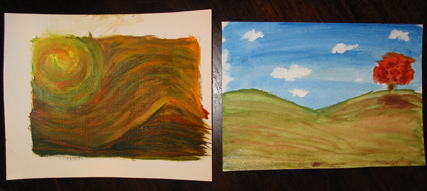 Left Image  Atelier Interactive Acrylics on canvas / Right Image – Atelier Interactive Acrylics on watercolor paper.
At the end of the class they had a drawing… I won the grand prize, this is great I can't wait to try this medium again.
Below is a picture of the materials I won.